Providing Resources, Improving Lives, Building Careers
Supporting students and programs of the Lancaster County Career and Technology Center to provide exceptional career and technical training for Gold Collar Careers.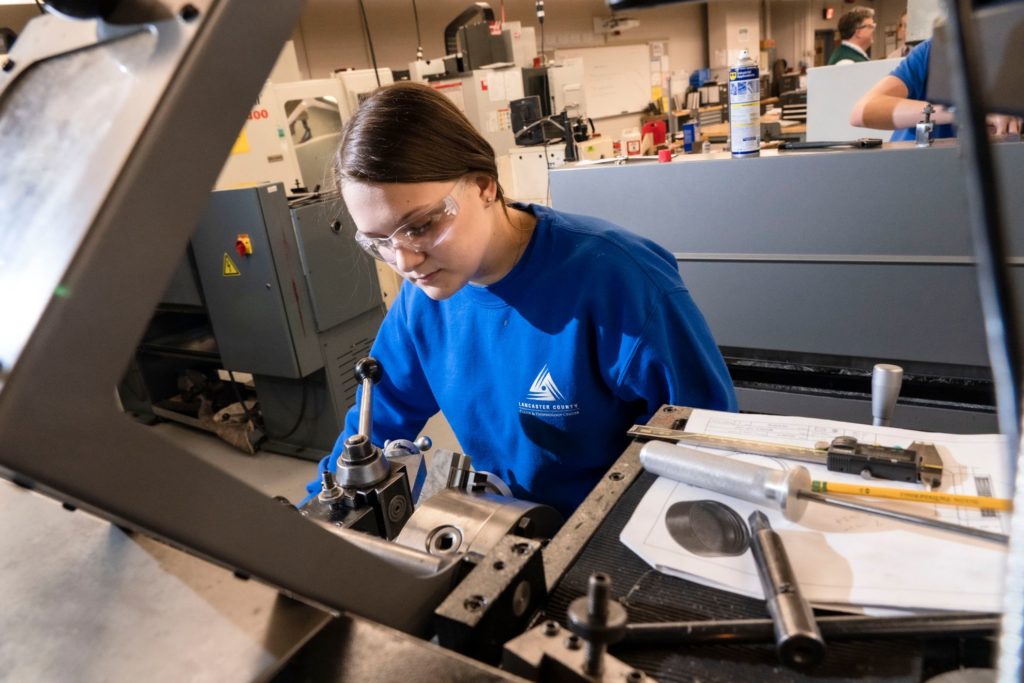 The mission of the Lancaster County Career and Technology Foundation is to ensure the Lancaster County Career and Technology Center has the materials, equipment and funding to provide the best in career training for high school and adult students.
LCCTF Raises
Dollars to support:
Funding for innovative, state of the art equipment, technology, supplies and materials
Financial assistance for students for uniforms, books, tools, certification fees
Scholarships for post-secondary education
Workforce grants for CTC graduates to obtain the tools and materials needed to enter the workforce and begin their career
Tuition support for adult students entering Advanced Manufacturing and Transportation programs
Show Your Support
Together we can build the careers and improve the lives of LCCTC students.
See Ways to Donate

»
LCCTF Supports the Mission of LCCTC
The LCCTF was established in 2003 and, since then, has raised $6,000,000 to support training and career development for both students and employers in the region by:
Growing the pipeline of skilled employees in high demand technical careers through innovative programming
Eliminating financial barriers for LCCTC students
Supplementing LCCTC programs to enhance curriculum
Supporting post-secondary education and career development following LCCTC education
Board of Directors
King T. Knox, Chairman Emeritus (Ex-Officio)
Darryl Gordon, President
The High Companies
Louis J. Farina, Vice President – Finance & Allocation
Senior Judge, Lancaster County-Retired
Judy A. Naylor, SPHR, Co-Vice President – Marketing
United Disabilities Services
Donald Lookenbill, Co-Vice President – Marketing
Jones Family of Dealerships
Logan Myers, Vice President – Special Events
Millport Conservancy
Linda Kreider, Secretary
B. R. Kreider & Son, Inc.
Tom Kifolo, Treasurer
Rohrer's Incorporated
Ryan Aument
State Senate of PA, 36th District
Eric Blow
Astro Machine Works
Michael Brubaker
Principled Strategies
Michelle Chronister
Triangle Refrigeration Company
Glenn Clark, Jr.
Clark Service Group, Inc.
Dr. Vito DiCamillo
Penn Medicine/Lancaster General Health Physicians
Jamie Morrison
Wohlsen Construction
Benjamin L. Pratt
Saxton & Stump
Phil Rohrbaugh
The Wenger Group
Mark Sauder
Sauder's Eggs
Nate Scott
Cargas Systems, Inc.
Scott Summy
Willow Valley Retirement Management, Inc.
Richard P. Witwer
Direct Wire & Cable, Inc.
Ex Officio
Dr. Stuart Savin, Administrative Director
Lancaster County Career & Technology Center
Chris Straub, JOC Liaison
Pyfer Reese Straub Gray & Farhat PC
Staff
Jennifer Baker, Executive Director
Lancaster County Career and Technology Foundation