We provide tools and training to create a thriving workforce.
Lancaster County is home to a number of industries that are facing an urgent need for skilled workers, including manufacturing, healthcare, and construction.
The Fly on the Run Virtual Auction is Now Live! From April 29th – May 8th you can bid on a number of amazing items including Lancaster County Career & Technology Center (LCCTC) student-made items, fly fishing equipment, trips, one-of-a-kind items and more!
Click Here to Bid and Donate

»
Our initiatives help grow a stronger workforce.
Together we can provide resources, build careers and improve lives for those in our community.
It's so much fun to work with the students when they realize that a project they are working on would have been impossible for them to create just several months ago.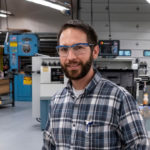 Kyle Young
Precision Machining & Computer Aided Manufacturing Instructor
Mt. Joy Campus
See all Impact Stories

»
Building a strong workforce
benefits us all.
Our business community has a unique role to play in training tomorrow's talent and promoting company growth. Here's how you can help.
Become a Workforce Talent Partner
Support careers in Advanced Manufacturing and Transportation Technology.
Learn more

»