Impact Story
Kyle Young
Precision Machining & Computer Aided Manufacturing Instructor
Mt. Joy Campus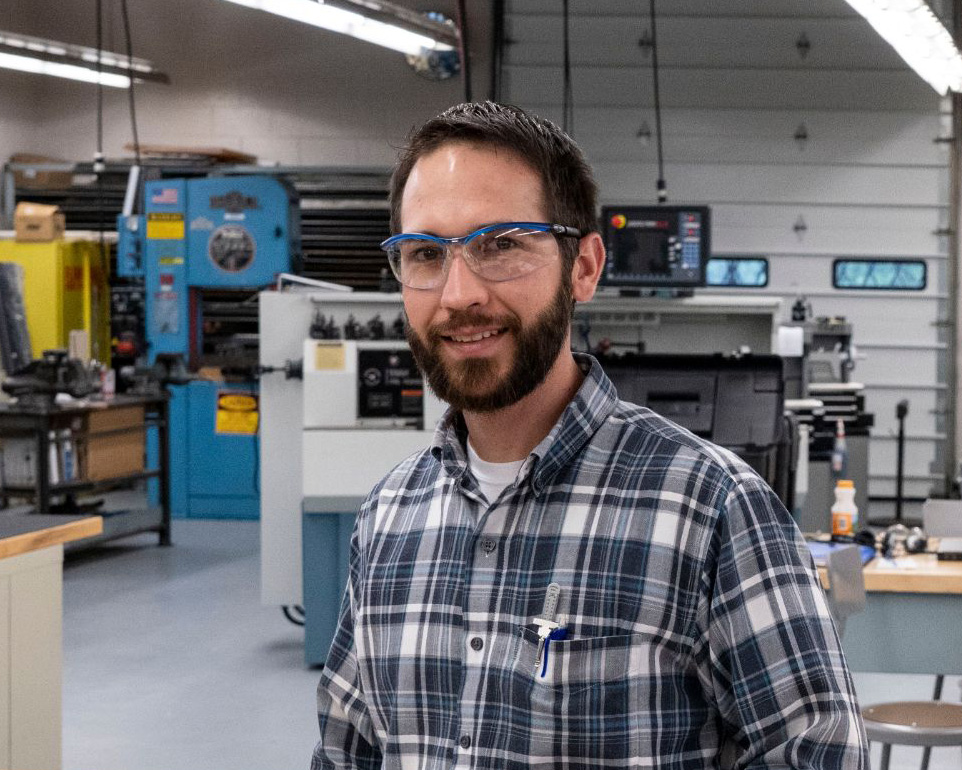 It's so much fun to work with the students when they realize that a project they are working on would have been impossible for them to create just several months ago.
High School
Solanco High School
Secondary Education
LCCTC, Precision Machining Program and Thaddeus Stevens College, Computer Integrated Machining Program
Career
LCCTC, Precision Machining & Computer Aided Manufacturing Instructor
How do you help students gain real-world experience?
The nature of CTE is hands on learning. We have tried our best to install industry level equipment in our program.
The equipment in our lab is equipment the students will encounter and use when transitioning to the local precision manufacturing workforce. We work very closely with the local industry and have incredible support from these companies. Many of the supporters are CTC alumni so they understand the benefit of hands on learning. There is a current void in our industry for skilled machinists so employers are always eager to provide Cooperative Education training opportunities for our students.
Through collaboration with local industry, instructors of similar subjects, machine manufacturers, and post-secondary institutions we are able to target the most beneficial information to include into the current curriculum.
How has the Foundation supported your program (received teacher innovation grant, purchased equipment/supplies for program, gave financial support to your student(s))?
The LCCTF has supported the Precision Machining program with several Teacher Innovation Grants. These include the purchase of a Coordinate Measuring Machine (CMM), Enterprise Resource Planning (ERP) software, iPad and shop floor pedestal, and a 3D printer.
Several of these items are yet to be implemented. The most notable item is the CMM which is a highly sophisticated metrology inspection machine. Metrology is a critical division of precision manufacturing and the availability of the machine in the lab fills a void in the curriculum that previously existed. Students who have experience on the use of the CMM have a competitive advantage over non-CTC workers and will be extremely valuable assets to local employers.
How has this support from the Foundation impacted your programs and/or students?
The implementation of the CMM has not only added capabilities to our shop but has revolutionized how we think in the Precision Machining lab. 
One of the primary uses of the CMM is to inspect and verify projects that students make to earn industrial credentials. However, having access to the machine has enabled the students to perform numerous reverse engineering tasks, previously impossible for us to do. Another avenue that the CMM has provided for the students is that of designing and creating work holding fixtures to be used on the machine. Many components need to be inspected on all sides therefore the machine needs to be able to have access/probe all over the part. Custom fixtures are required for the machine to be able to do this. The students have to use critical thinking skills to design and machine the fixture to be used on the CMM.
Support the future of your industries' workforce